It has been my observations that Poikosoft has engaged in unsportsman-ship behavior, these are facts presented, draw your own conclusions:

Around the 8th February 2003 someone using Poikosofts passwords hacked into AudioGrabbers email system on ShareIt and sent messages to customers of AudioGrabber, pertaining to be from AudioGrabber (in my country such is called impersonation - a serious crime), see the reaction here on AudioGrabbers Messageboard.

Over a number of years I have noticed that someone was block voting down programs in the Audio CD Ripping category on download.com (they have a section where a recommend or not recommend vote could be passed), I have seen 'CDex' have 300 negative votes cast on it in a single night to take its rating from 92% recommended to 39%.

It has been my observation also that one program was never touched by such block voting down, that was Poikosofts Easy CD Extractor. It was also my observation that on the 25th May 2003 Poikosoft have just released a new program and it has 78 votes: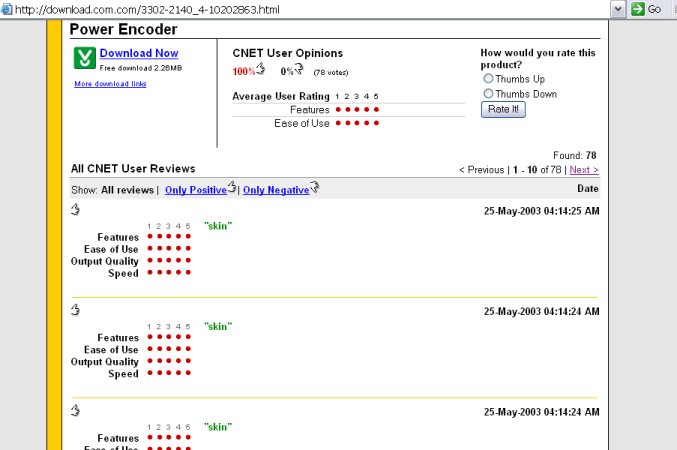 ...all identical votes right down to 78:
It looks to me that in the space of 30 seconds someone has block voted for Power Encoder.
Poikosoft you are excluded from AccurateRip!